Go2Funlive 45W Ssb Am Linear Power Amplificateur Cw Fm Power Amplifier Hf Radio Transceiver Shortwave Diy Kit Signal Amplification
Please hurry, only left in stock
customers are viewing this product
Features:
Common used in SSB, AM linear power amplifier, the CW, FM, power amplifier, and the most basic signal amplification.
Easy installation and operation.
Low noise, high cost performance, very suitable for DIY enthusiasts.
Our product is sent by parts, which not include heat radiator, please help yourself to assemble.
The overall gain more than 40db, which is 10000 times, 10W input 1mW output.
Specifications:
Input Power: 1-5mW
Output Power: 45W (Max.)
Input Voltage: DC 13.8V 10A or higher 
Max. Output Power: 57W (not with cooling fin)
Output Impedance: 50 ohm, can according to need to adjust between 10-200 ohm
Input Frequency Range: 3M-30MHz(HF channel)
Input/Output Interface: Standard SMA interface, external thread hole
PCB Size: 60 * 100 mm
Diameter of Located Hole: 3mm
Color: Green
Package Size: 13 * 8 * 1.5cm
Package Weight: 58g / 2.07oz
Note:
-The following data to test in person, these data sheet is in a large heat sink can withstand 200W above measured, there is not enough cooling capacity, please do not limit, it's not safe.
-The upgrade board test data,so it can be used for all HF Channel,
-In 3 to 5 MHz this period, because of the low frequency, small inductance, lead to the gain has a certain loss, the output power is lower than 7 MHz this point.
3.500MHz  54W
7.050MHz  56W
10.000MHz 57W
14.270MHz 55W
21.400MHz 41W
24.000MHz 37W
28.100MHz 25W
29.600MHz 20W
Package List:
1 * SSB Linear Power Amplifier
English User Manual:
https://www.dropbox.com/s/k6a1zbv7ou9m5kj/E1585-English%20User%20Manual.pdf?dl=0
The Winding Method of Magnetic Coils:
https://www.dropbox.com/s/2d92imnguqsoo0g/E1585-the%20Winding%20method%20of%20Magnetic%20coils%20V306.pdf?dl=0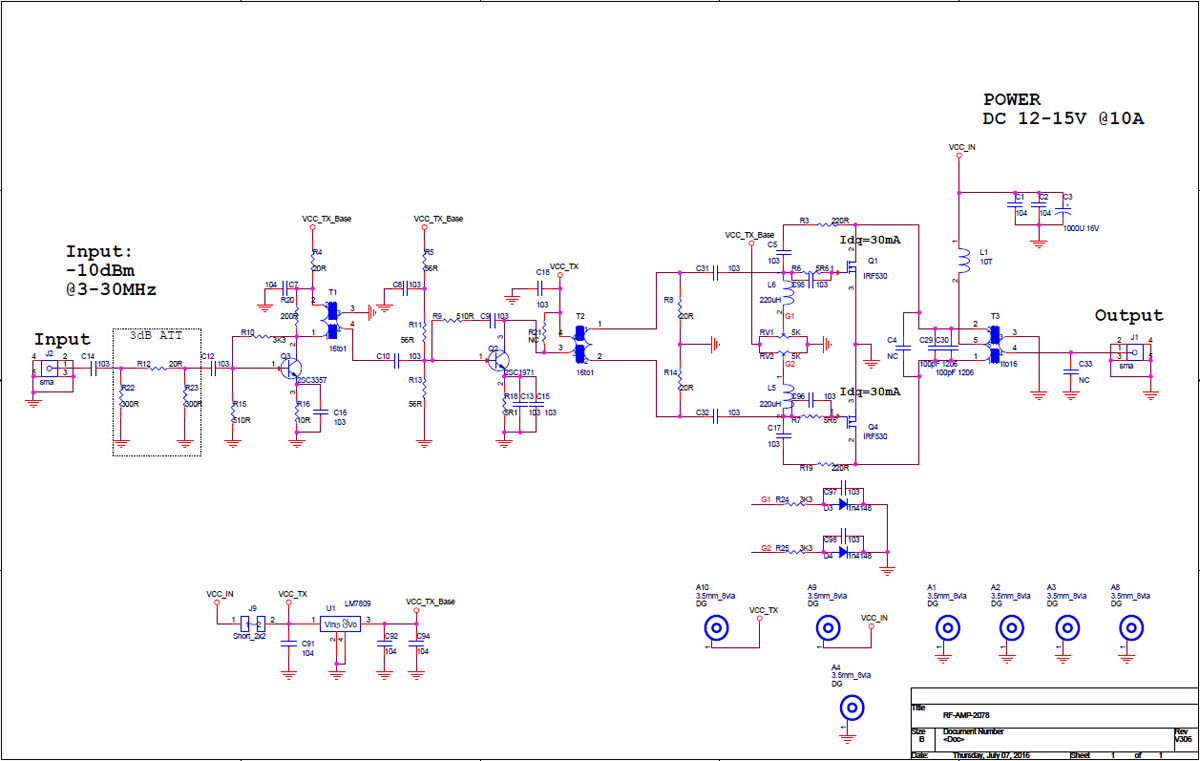 [countdown]2020/6/23 0:0:00[/countdown]